We are getting requests for a Return Engagement…
from November 17, 2012 : Come & See a Preview of the Authentic Method at ArtPlay in Birmingham, AL. !
Featured Artist is Sasha Krane of The Lee Strasberg Theatre and Film Institute . Sasha's workshop will reveal the secrets of Method Acting in Film. - For more information, Email us: art@theactingstudios.com or Click on: Contact US! -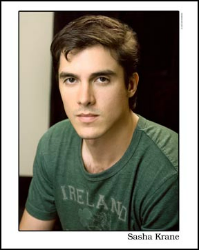 Sasha Krane - Writer, Director, Producer, Instructor
Sasha Krane trained from a very early age as a Method Actor in New York, with Geoffrey Horne, where he developed a passion for theatre and film. The nephew of legendary acting teacher, Lee Strasberg, Sasha moved to Los Angeles and began writing and directing stage-plays.
The production of his first work in 2002, Leftover Hearts, at The Marilyn Monroe Theatre garnered good reviews and was soon followed by Astyanax in 2003, a short film he wrote and directed.
He then began to assist Sally Kirkland in her acting classes at The Lee Strasberg Theatre & Film Institute. He soon transitioned from acting to writing and directing, and his next short film, A Little Death, won Best Romantic Comedy at the prestigious 2004 New York International Film Festival. Several of his scripts have been optioned and sold, including: Tooth and Claw, Caliban, and Red Winter. Sasha continues to work as a script doctor and screenwriter.
His first independent feature that he directed, Machete Joe, won the 2010 San Diego Black Film Festival award for Best Thriller. His latest short film, Patriots, that he wrote and directed, has so far been accepted into the premiere short film festival, HollyShorts, and the 2012 Columbia Gorge International Film Festival. Shorts International bought Patriots for global distribution.
Sasha's latest feature, a neo-noir crime drama titled Kickback, has been optioned and will star Dolph Lundgren in the lead role.
Despite his busy schedule, Sasha is an Acting for Film and Television instructor at The Lee Strasberg Theatre & Film Institute in Los Angeles, where he also serves as the resident Film Director. Sasha has written a total of eight shorts, thirteen features and two stage plays. In addition to writing the shorts and stage plays, Sasha also directed each of them and served as an Assistant Editor. He has also directed two feature films: The Fury and Machete Joe.